Get Certified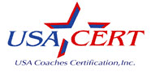 Using GymCert, coaches and gymnastics professionals can learn many of the techniques needed to master their craft. From the basics of safety to better coaching techniques and advanced risk management, GymCert offers the definitive program for becoming a better gymnastics professional.
Through a combination of online manuals, online courses, free article downloads and DVDs, GymCert's program materials are presented in a variety of ways for all types of learners, in all the places you need to learn. Read the manual, take an online test and receive your certificate of completion to advance your career.
We recommend purchasing the physical book to refer to when you are taking the course but especially to use as a reference and resource while coaching. Within the books, there are helpful charts that associate with particular skills for each level as well.
Once a course has been completed the online text book will no longer be accessible.
Courses Available include:
"Safety Basics" Online Course for the Gymnastics Instructor
Girls Level 1, 2 & 3 Online Courses for the Recreational Coach
Boys Level 1 Online Course for the Recreational Coach
Girls "Skills & Drills" Online Courses for Levels 1, 2, 3, 4, & 5 for Competitive Level Coach
Spanish - Girls Level 1 Recreational Coach Course
All Levels should be taken in order
Visa, American Express and Master Card Accepted
"GymCert is proud to partner with USA Gymnastics. You can now receive University credit for taking: R104: GymCert Level 1, R105: GymCert BOY'S Level 1, R204: GymCert Level 2, R205: GymCert Level 3. You must register at USAGymnasticsUniversity.org in order to receive certification from USA Gymnastics University."